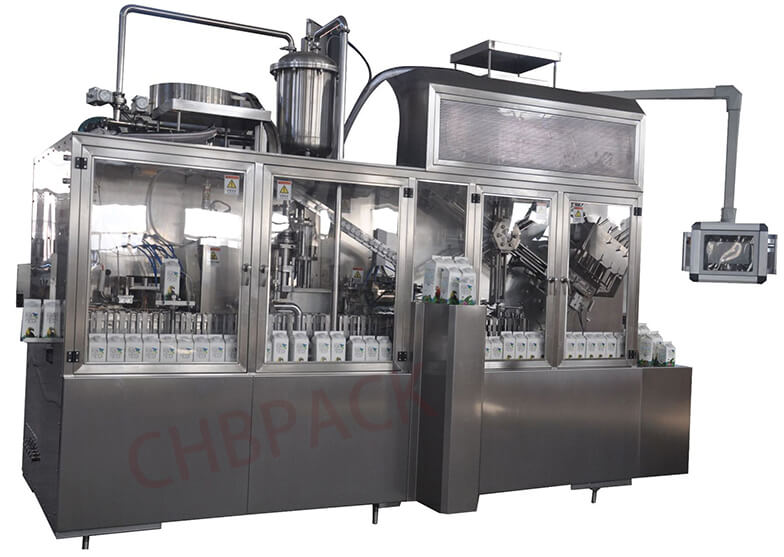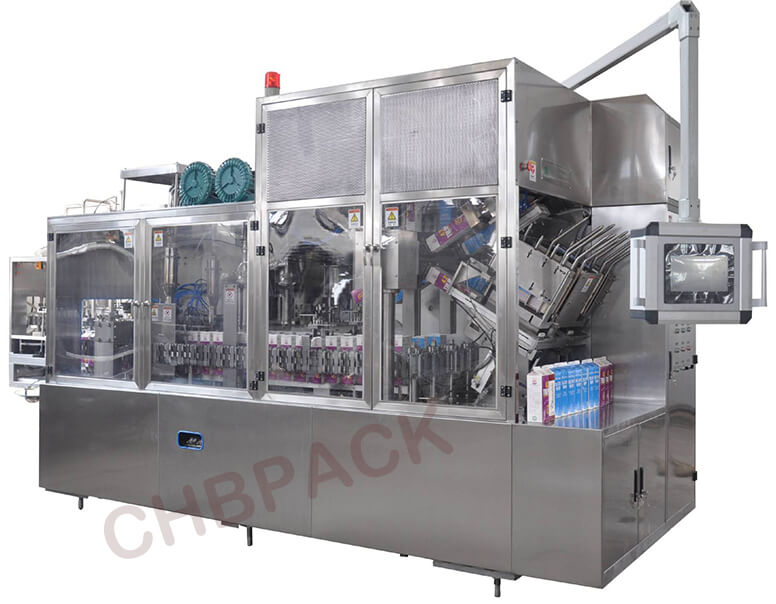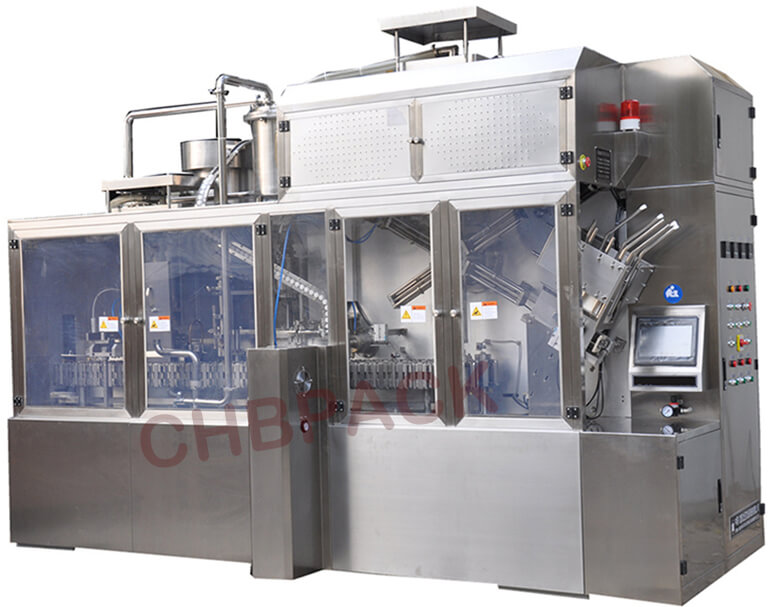 HB-2500 roof type Milk carton filling machine
(Automatic, cold filling)
CHBPACK is a food machinery manufacturer of rooftop carton filling machines, with more than 100 domestic and foreign customers, and the models are HB-2500 series, HB-2000 series and HB-1000 series. HB-2500 is a full-automatic roof-shaped carton filling machine, which is divided into different specifications according to different output, configuration, degree of automation, size of the carton and size of the lid to meet the needs of different users.
I. Equipment process flow.
Roof box paper box piece → bottom pre-forming → bottom heating → bottom pressure seal forming → ultrasonic lid adding → top pre-forming → filling → top sealing into shape → printing date → roof pack product.
The whole process is all computer program controlled automatically, only 1 person is needed.
II. Production varieties.
Filling of liquid, granular or powder products such as juice drinks, fruit vinegar drinks, fresh milk, yogurt, milk drinks, cereal drinks, tea drinks, fruit juice, egg liquor, soy milk, thin cream, wine, spices, chemicals or grain.
III. Technical parameters.
The whole set of equipment in addition to the bracket are food-grade stainless steel, the surface has been treated with special technology, beautiful and generous
1、Capacity: 200--1000ml, the same machine to complete
2、Production capacity: 2000-2500 boxes / hour
3、Packing material: roof cardboard box or roof aluminum foil box, bottom 95*95mm, 70*70mm, 57*57mm, only one of them is optional
4、Covering: free choice to add cover or not, realized by the same machine. The size of lid φ26-φ36 can be chosen as one
5、Filling temperature: 2 --- 94℃
6、Whole machine power: 25KW (three power electricity)
7、Shelf life: depending on the product type and process
8, compressed air: pressure: 1.0-1.4Mpa, flow: 1.4--2 m3 / min, no oil, no dust
9, cooling water: flow: ≥ 40L / min temperature: ≤ 30 ℃
10, size: (L * W * H) 3.7 * 1.6 * 2.8m
11, the weight of the machine: 3500KG
12、Installation requirements: cement, tile, plastic ground are available, no need to play the ground corner.
The company has filling lifting function to avoid liquid frothing and splashing when filling.